I eat, breathe and sleep a high-octane mixture of motorbikes, music, and online business. Oh, and let's not forget coffee.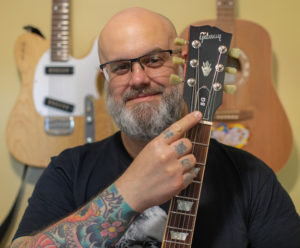 I live in Oakland with my lovely wife Angelica, who likes to make stuff. I mostly ride a 2018 BMW R1200RT that is in perpetual need of a good wash, but I also own a 2001 Moto Guzzi Rosso Mandello that made an appearance at the 2019 Quail Motorcycle Gathering and a heavily-modified 2014 Honda CRF250L. I keep a few guitars on the wall of my office as a reminder of my rockin' youth; my favorite is probably the semi-hollow G&L ASAT with a humbucker in the neck position, but the cherry red Gibon SG gets a lot of love too—it's so playable, and it doesn't hurt that the letters "SG" are also my initials. 
I'm a true believer in the power of the web as communication medium, marketplace and brave, continually-new-every-day world, even if I'm often frustrated by the quality of the information shaping that world. My career has been roughly 50/50 in-house and agency/consulting. I ran the digital marketing programs team at ROI DNA in San Francisco, working with brands like Virgin America, GitHub, SoFi, Capital One, Malwarebytes, and Dropbox, and now do my own thing at my digital marketing consultancy, Marketing Astronaut, helping brands like PullString (acquired by Apple), SourceClear (acquired by CA Technologies/Veracode), Flurry Analytics, (ISC)², Radius, Grand Rounds, Figma, and others grow. Check out my LinkedIn page if you want more information about my  so-called "professional" background.
In my spare time, I'm a curriculum advisor for Trilogy Education and teach Digital Marketing boot camps at UC Berkeley Extension. I also run CityBike Magazine and advocate for motorcyclists over at LaneSplittingIsLegal.com, work that helped pass AB 51 in California. You can check out my moto-ramblings here.