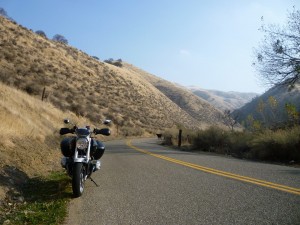 It was supposed to rain this afternoon, but I wanted to ride the Mount Hamilton>Del Puerto Canyon>Mines loop I rode last Sunday. I also just installed some Barkbuster S1 handguards and wanted to see how they worked at keeping my hands warm.
Turns out it was a really good thing I had installed those handguards – my bike's thermometer was reading 34 degrees on the front side of Hamilton and my sandwich-grabbers were chilly. I know that's not cold for you "Yeah, I ride my GSA in the snow, so what?" kind of guys – but that's pretty cold for us California folks. The good news is between my heated grips and the handguards, I did ok. I did spend a few minutes warming up with a skinny mocha (gotta fit into my leathers!) in Patterson before heading back over Del Puerto Canyon to Mines road.
Unfortunately, I'm not super-happy about the pair of Held Warm 'n' Dry gloves I picked up a couple months ago. I had high hopes – the Warm 'n' Dries have great reviews and supposedly work well with heated grips. Plus, I love my Held Steve IIs, just as I loved the pair of Steves I wore out before this pair. But W&Ds don't transmit heat from the grips very well, and they're so stiff that I feel very disconnected from the controls. Not good. So, I'm on the hunt for a new pair of winter gloves. Maybe the SF D-store has something for me.
So in summary… I endured near-freezing temps in unsatisfactory gloves, I lost count of the cows in the road, and the rear was end stepping out more than a cheatin' wife in a country song on the sketchy roads… but I had a hell of a time. And I made it home before it started raining.
And here's the trip on Spotwalla, as tracked by my Spot Satellite Messenger.
Google Maps route over here, if you're looking to do this loop yourself.