While working at SkinStore, I became a bit of a manly skin care product whore. OK, so maybe "whore" is a bit too strong, but I do have a small set of products I like and stick to pretty religiously. One of these is Razor Burn Repair by Anthony Logistics For Men, basically a post-shave moisturizer – very soothing. I have very sensitive skin, and this stuff works wonders.
I usually order from SkinStore, but I've been actively ordering directly from brand websites lately, to get a feel for the experiences they offer and see what they're up to. So I ordered some Razor Burn Repair directly from Anthony.com on 9.21.10.
I like the Anthony website – I think it does a decent job of infusing the experience with founder Anthony's personality without being ridiculous.  But I got a surprise when I reached the checkout flow. Shipping was expensive – $9.11 for a single four ounce bottle! I really felt like that was excessive and almost bailed out, but I bit the bullet so I could check out the customer experience.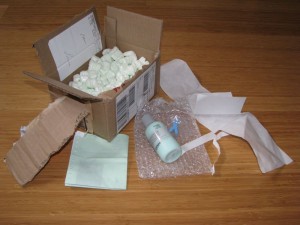 I got the package 8 days later. Not cool, considering lots of sites ship for less and get me my goods much faster. Even worse, Anthony uses old style peanuts – messy and not biodegradable, and the product was wrapped in a bubble wrap bag. And while I appreciate the personal touch of a packer's signature on the inside of the box, presumably verifying correct products, I'm surprised and bemused that they decided to send me the garbage my order generated too.
All kidding aside, this kind of thoughtless, wasteful packing and shipping always bothers me, enough to discourage me from ordering again. It's far too prevalent in the ecommerce world.  And Anthony could do a better job of optimizing shipping costs and time.