My taste in motorbikes often runs towards the hooligan side of the street – such as my '07 Speed Triple SE – but I also have a long-running love affair with comparatively "sensible" Boxer-engined Beemers, ever since I rode a buddy's yellow R90S cafe racer many years ago. Lately, I've had my eye on a black and green Rockster around the corner at MotoJava – seems like it'd be a perfect 2-up city bike.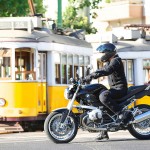 I wasn't too excited when I heard there were mild updates to the R1200R for 2011, until I got a load of the R1200R Classic over on Hell For Leather. That's right – chrome spoked wheels and black paint with white accents gets me every time. And the bike has had decent real world horsepower (110 hp and 88 ft.lb of torque) for a couple years or so now, although I have heard some significant complaints about the reliability of the 1200 engine. Very un-BMW!
I disagree, though, with Hell For Leather's characterization of the BMW roadster rider as a slipper-wearing, pipe-smoking traditionalist, complete with monocle. Granted, this isn't the bike for popping block-long wheelies and screaming from stoplight to stoplight with the back tire in flames, but I think it'd make a perfect San Francisco urban assault vehicle. Throw some heated grips and a top box on there, and you're good to go. Tractable power and a reasonably slim albeit not-so-girlish figure make for an awesome lane splitter, and it should handle well enough to make weekend jaunts down the coast plenty of fun. Yes, please.