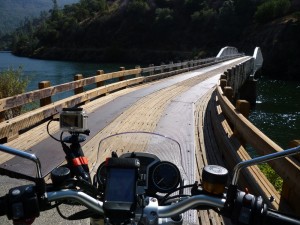 A little over a month ago, I broke down and bought a new bike – a BMW R1200R Classic – yeah, that one. The Gentleman's Hooligan Bike. I've had it just over five weeks, and it's already got almost 2,500 miles on it. I put about 1,000 miles of that on it in the last 4 days.
My route was something like this:
Day 1: South out of San Francisco to San Jose, over to Mount Hamilton and across the valley through Patterson to the covered bridge in Knight's Landing, through Chinese Camp and across Don Pedro Reservoir, through Tuolumne City and into the mountains headed towards Strawberry via Deadwood. Yes, there's a Deadwood in California too, or at least there's the word "Deadwood" on a map. Turns out there's nothing there – as I found out after miles of dirt fire trails. Video to come. After about ten more miles of gnarly fire roads, I headed up through Strawberry and over Sonora Pass in time to see some beautiful sunset scenery, down 395 and into Lee Vining/Mono Lake. I made camp (got a hotel room) in Lee Vining and crashed out for the night.
Day 2: I grabbed breakfast at Nicely's (who weren't especially nice to me) and headed out for an early walk around Mono Lake. No, not all the way around. I then saddled up and headed up and over Tioga Pass, and down through Yosemite where they were doing a maintenance burn – lots of smoke. Video of that to come, too. From there, I rode down 41 out of Yosemite to Fish camp and Sugar Pine and then along Bass Lake. I then headed down Italian Bar Road, which turned out to be a crazy goat trail descending to Redinger Lake and then rode back up the other side. I had routed another hundred plus miles of this goat trail stuff but when the roads started turning to dirt trails again I gave up and made my way back out to some pavement and rode down out of the hills towards Visalia where I crashed for the night.
Day 3: I was exhausted from all the hairball goaty stuff, so I slept in and then relaxed a bit and sipped coffee. Once I got rolling, I headed across the valley, up through Atascadero and into Los Osos where I met the nice folks from Elemental Herbs (and scored some awesome lip balm!) and enjoyed the best damn roasted veggie sammich I've ever had at the BeLoved Cafe. From Los Osos, I headed up through Morro Bay and on up Highway 1, hoping to make Monterey before the rain hit. No such luck – I had to suit up in my raingear a couple hours from Monterey and ended up riding up the last leg of Highway 1 through Big Sur after dark, in the rain. Not so much fun.
Day 4: While reviewing my maps in the breakfast room at my hotel, I discovered that Wunderlich's US office is in Watsonville – gotta stop there. In the parking lot of the hotel, I met some of the folks from MCi Tours – they were just wrapping up three weeks on the road. And here I thought I was pretty bad ass with my four days of riding. Eventually I got enough coffee in me and the roads had started drying out, so I headed for Watsonville to check out the Wunderlich shop. After that I stopped in La Selva Beach for a surprise visit with my Grandma. After hanging with Grams for a bit, I headed through Santa Cruz and up the last leg of Highway 1, home to San Francisco. Thankfully, I only ran into a light rain here and there and made it home nice and dry.
More to come, but a few things to note:
The R1200R is the greatest bike that has ever existed. Solid, predictable handling and plenty of guts – it handled everything I threw at it with impeccable composure, including 15 miles or so of off-roading. Fabulous bike!
I ran a GoPro Hero video camera on my handlebars and captured about 60 gigs of video. I'll post the tasty bits once I've dredged through it all – including my visit to legendary Deadwood.
I need to plan more of these long rides. I want to ride the Cal 24 in 2013, and I need to do lots of "training" for that. ;)
The R1200R is the greatest motorcycle that has ever existed.