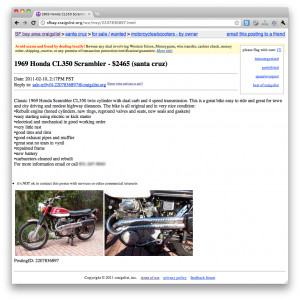 I'm a motorbike addict, a junkie too far gone to even bother with denial. My morning coffee and lunchtime routines includes a lot of "researching" of the Craigslist motorcycles section and the BARF Classifieds.
Today I came upon a 1969 Honda CL350 Scrambler for sale down in Santa Cruz. This was my first street bike! No, I didn't start riding in 1969 – I wasn't even born then, contrary to what the gray in my beard may have you thinking. I bought my CL from a friend of my dad in 1988 for $100. That's right, one hundred American dollars. It was clean, too – at least as clean as this one, and it ran. I tore around the backroads without a license (wasn't old enough) or a helmet (I know, very bad!). A year or two later, I got a license, a helmet, and a 1981 Yamaha XT250.
DUDE. I want this bike. There's no sense to it, none at all. Yeah, early Hondas CBs and CLs are cool bikes – I've had several, and loved them all – but there's no real good reason to buy this bike other than nostalgia. I'd been riding on the dirt for many years, but this is the same exact bike that introduced me to the evil powers of street bikes.
It's too small for me, and I'm too accustomed to *ahem* real horsepower, the brakes will be about as good as dragging my feet, Flintstone-style, it'll be impossible to find parts… the list goes on. But I still want it.
So the rationalizing starts… I could get it, hang on to it, eventually restore it, ride it around the neighborhood now and then. Angelica could ride it. Ooh, there we go! And it does look reasonably unmolested, even has the original paint. Sure, the frame has been repainted, but it's probably ok. The side covers are missing, but that's nothing that hours upon hours of combing eBay and motorcycle wrecking yards can't solve. I can probably talk the guy down on the price, maybe get him down to around two grand… hey, that's only 20 times what I paid for my first one!
And it just so happens we're going to be down in Santa Cruz this Saturday.