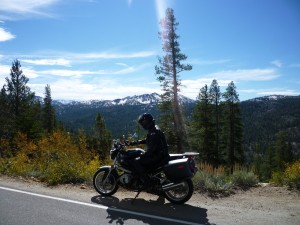 After I rode Sonora Pass as part of my 4 day California ride a couple weeks ago, I got to thinking it'd be great to head up to Ebbetts Pass before the snow hits and closes things down for the winter. So I put together a loop from San Francisco to Ebbetts Pass to Monitor Pass to Sonora Pass and back to San Francisco and said to my friend Gregg, "Hey man, what do you think about heading up to Ebbetts and Sonora Pass this Saturday?" He responded with an enthusiastic "Hell yes!" so the ride was go.
As the week progressed, the weather predictions ranged from really good to "uh oh…" with rain and snow up in the mountains. The passes gets up to almost ten thousand feet in several places, so the weather can be pretty intense and there has already been significant snow. But according to CalTrans, the roads were still open and as the week progressed the weather looked more and more amazing: sunny and not raining or snowing. At the end of the week, I heard from a couple guys who'd been up to Ebbetts during the week and road conditions were good. So Saturday morning, we headed out around 7:30 AM and rode across the valley. We stopped to gas up in Murphys and then the real riding began.
Highway 4 up to Ebbetts was amazing. New, clean pavement and not much traffic. We stopped to take photos here and there, but it was hard to not stop about every ten feet – it's just so damn beautiful everywhere up there. As the day progressed my threshold of "Wow, I should take a picture of that" got a lot higher – we had almost five hundred miles to cover.
We grabbed lunch somewhere along 395 as we cut over from Monitor to Sonora Pass, and struggled a bit to avoid a food coma-induced slowdown as we headed out for Sonora. Since I just rode this Sonora (the other direction) a couple weeks ago, it felt amazing and familiar. For Gregg, who'd never ridden any of these roads, it felt amazing but also a little sketchy. These are not easy roads – lots of blind turns and up-down, off-camber madness. Awesome fun once you find your rhythm.
We stopped off in Jamestown on the other side of Sonora Pass. We gassed up the bikes (and gassed up ourselves with espresso and ice cream cones) for the 140 mile freeway death march back to SF. Total saddle time for the day: about 12 hours, minus photo stops and lunch.
The R1200R continues to prove its mettle – it's just an amazingly composed, rideable bike. Twelve hour days in the saddle? No problem! I've had it about 6 weeks now and I've turned over 3,000 miles on it already.
So here are some photos – mostly mine, but there are a few of Gregg's shots in here too.
And here's the trip on Spotwalla, as tracked by my Spot Satellite Messenger.
Google Maps route over here, if you're looking for an awesome day-long ride.