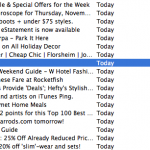 I subscribe to a LOT of email – I like to see what other email marketers are doing. Because of this, I get so much email that I'm in constant email overload mode (sounds familiar, I bet) and it takes something pretty spectacular – or really lame – to get my attention.
Taking a peek at my subscriptions inbox this morning, I saw an email from Macworld with a three character subject line: –>. That's not me pointing at something, that's the subject line. An arrow.
Ever the jaded online marketer, my first thought as I glanced through my emails was "Oops, someone screwed up personalization again." Then I thought maybe some really crappy spam had snuck into my inbox somehow, until I saw the from: Macworld Gems.
I think overly gimmicky subject lines can be a bit of a risk, and tricks like this are usually one-shot deals. But, as we always say, "test, test, and test s'more!" So what were the email marketers at Macworld thinking on this one? Maybe in a vertical preview pane, the "look over here" arrow mechanism works. Maybe they just thought it'd be eye-catching.
For me, it just looked weird, like a mistake. But… I noticed it. What would a "normal person" (non-email marketer) think of this?